Scott Walters: The HR Expert that Combines Knowledge, Technology, and Seamless Process to Help Start-ups Scale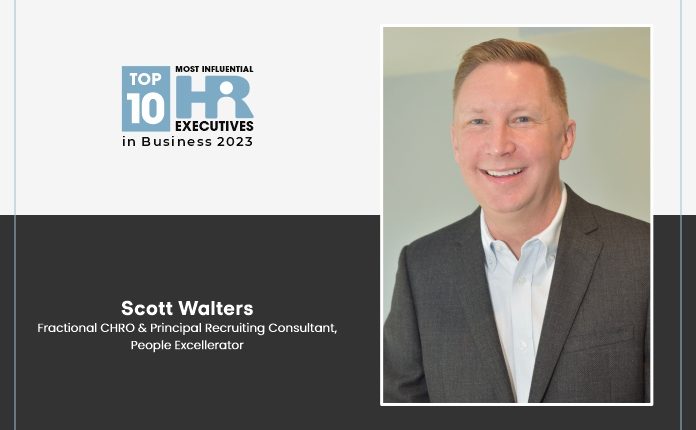 Scott Walters is a seasoned HR professional with a wealth of experience in human resources and talent acquisition spanning over 25 years. Having worked in both public and private environments, Scott has built scalable HR functions from the ground up in various industries, including software development, technology, environmental, entertainment, financial services, and automotive.
His innovative and progressive approach to managing HR operations and recruiting has resulted in his success in streamlining internal processes, improving the employee experience, reducing expenses, and rapidly staffing open positions across all disciplines.
His ability to yield solid results while creating best practices within human resources and recruiting has helped companies shape their employment brand and culture.
As a leader, Scott has led several systems implementations, created numerous pipeline tools, developed proven metrics, and helped companies shape their employment brand and culture.
Scott is the go-to HR expert for building lean operations enabling early and growth stage start-ups to achieve their business goals.
After an extensive HR career, Scott saw an opportunity to parlay that experience into his own HR consultancy, People Excellerator.
Dream big. Start small. But most of all, start.
People Excellerator
People Excellerator is a firm that specializes in developing tailored HR solutions to facilitate the growth of emerging start-ups. Its approach involves collaborating with the existing HR resources of an organization and leveraging technology solutions to achieve this goal. Clients have the flexibility to engage with People Excellerator on an hourly, project, or retainer basis.
People Excellerator's services include essential HR solutions customized to each client's unique requirements, including payroll administration, benefits administration, talent acquisition, day-to-day HR support, fractional chief human resources officer consulting, HR policies, and compensation and benefits benchmarking. The team at People Excellerator prescribes and implements these vital HR solutions, molded to each client's individual needs, enabling our clients to position themselves to scale quickly.
By partnering with People Excellerator, organizations can benefit from deep expertise and experience in the field of HR, which allows organizations to focus on their core business activities. With the firm's help, start-ups can build a robust HR foundation that aligns with their overall business objectives, facilitating their growth and success.
People Excellerator is guided by a set of primary values, which are:
Commitment: Committed and dedicated to the success of our clients by improving their bottom line.
Client Service: Provide the highest level of client service by being responsive, thorough, and supportive of the client's needs.
Quality: Provide high quality, tailored, and innovative solutions to meet the current and future needs of our clients.
Integrity: Embrace and uphold the highest standards of personal and professional ethics, honesty, and trust.
The Idea Behind People Excellerator
Having worked at numerous start-ups, often as the initial recruiter or HR employee, Scott observed that many start-ups faced similar challenges. They struggled to attract talent, resulting in a significant expenditure on placement firms. Additionally, managers were unable to establish a selection process to identify top talent, leading to many unsuccessful hires.
Internally, teams often scrambled to onboard new hires, including ordering computers, creating accounts, and setting up desk space, usually the day before or even the day-of their start date. This chaos could be eliminated with a basic checklist to standardize the process.
Moreover, exiting employees did not receive their final paychecks on time and computer equipment often went uncollected. Again, a simple checklist could resolve these issues.
Scott believed that executives acknowledged the need for improvement but lacked the funds to invest in an experienced full-time hire. They also thought that there was insufficient work for a lower-level hire, resulting in no one assuming responsibility for these problems.
As most start-ups operate similarly, Scott realized he could fill this gap himself. After nearly four years, he now assists early stage and growth start-ups in resolving these issues and elevating their HR function to the next level.
Resolving Challenges to Extend Growth
Scott believes that challenges, while daunting, have the potential to foster personal and professional development. According to his experience, Scott feels that tackling challenges can lead to growth in various ways. To overcome challenges, Scott perceives them as puzzles and diligently tries different solutions until one eventually fits.
Furthermore, Scott considers that challenges are an integral part of his work. The People Excellerator teams take pride in assisting clients in overcoming their challenges, and this gives the team immense satisfaction. For instance, Scott shares, "One of our clients, an e-commerce start-up, hired their first HR manager, who didn't possess the expertise to build an HR and recruiting function nor the knowledge to rapidly add staff. The company's goal was to make 54 new hires in the first quarter. However, management discovered that there was no plan in place to support the initiative, and therefore, they didn't have the tools or recruiters to support this staffing effort."
Scott collaborated directly with the president to develop a tailored solution, which involved determining the necessary number of recruiters, procuring the required tools, establishing a selection process, setting up software solutions to support the process, and training hiring managers on best interview practices. By the end of the quarter, People Excellerator had achieved their objective and transitioned the few remaining unfilled positions to their full-time staff.
Way as a Leader and an Entrepreneur
Scott's approach to business is founded on being equitable and fair to his clients, many of whom are start-ups and may be vulnerable to exploitation. He differentiates himself from others by providing flexible engagement options and creating custom strategies that fit the size and scope of each organization. Scott believes that every business should know that there are efficient and practical solutions available to address their HR needs.
As the principal consultant, Scott handles various aspects of the business, including daily operations, sales, client success, and consulting. Every day is different, and each client's needs require a unique solution. This can result in Scott working on different projects simultaneously in different time zones.
Scott views himself professionally as a "conduit" – someone who connects management, employees, company missions, and goal realization in the realm of human resources. In turn, People Excellerator serves as a conduit that connects companies with personalized HR resources, distinguishing it from other providers.
Managing Work and Personal Life Effectively
Scott established People Excellerator, in part, to sustain a healthy work-life balance. Working outside a traditional 9-to-5 corporate environment enables him to focus on what he considers significant for himself and his clients.
However, being the principal consultant for a small business sometimes poses challenges to maintaining that balance. Scott acts as an on-call HR representative for many clients across various locations, from Los Angeles and New York to Korea and the Philippines. This may result in a blurred line between work and personal life. Despite these challenges, Scott strives to ensure he manages his work and personal life effectively while continuing to provide exceptional service to his clients. He states, "We stay motivated to deliver because, as I mentioned above, their success is our success."
Success for Scott
Scott derives his sense of achievement from the success of the clients. He considers himself successful when he assists clients in achieving their business objectives and expansion strategies. He believes that their victory is also his victory.
You never lose in business. Either you win or you learn.
Plans for Future
Scott's vision for the future of People Excellerator aligns with his personal aspirations as a business leader. As his company acquires more clients, he aims to establish himself as a dependable advisor and valuable resource to growth-oriented start-ups.
According to Scott, aspiring HR consultants must keep an open mind about the market's condition and actively listen to their clients' requirements. They should avoid forcing a solution that doesn't fit their clients' needs. He believes that the most valuable clients are those who come back repeatedly and recommend your services to others, and it's not just about billing hours.
Find out more about People Excellerator's tailored HR solutions and read success stories at www.peopleexcellerator.com