Vincent Chew – A Purpose-Driven Leader Helping People Live Happier and Fulfilled Lives Using Their Full Potential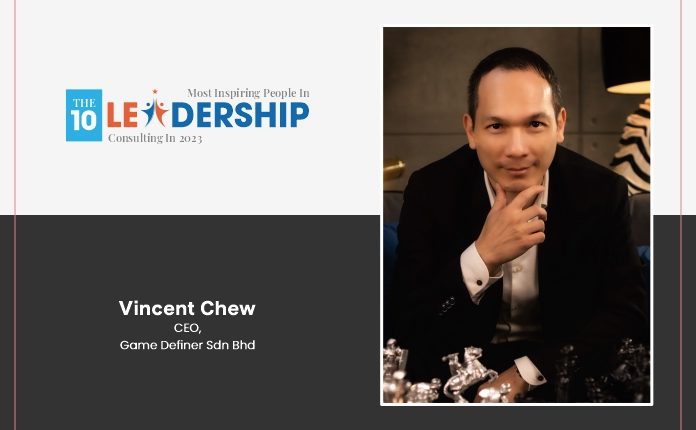 Fortune sides with him who dares.
Every leader has a unique definition of success. Vincent Chew, CEO of Game Definer Co. has a very special talent for envisioning the peak results of an individual, a business, a project, or a solution. He believes the ultimate goal for all of us is to be happy. Whether we want fortune, fame, excellent relationships, fantastic health, or anything else, they all lead to happiness in the end.
"But the question is, are we happy while pursuing happiness? So, to me, success is about having absolute, sustainable clarity & purpose and being happy in our journey in life," he says. Clarity gives us the sense of direction and power to show us the way forward, while Purpose offers us the meaning and the spirit to keep moving forward. Being happy entails more than just enjoying pleasures; more importantly, it also entails having an internal sense of joy and balance. To be truly successful and happy in life, there must be a balance and alignment among our thoughts, feelings, actions, and spirit to drive us forward. True success requires giving, nurturing, a lifelong learning attitude, and sustainability.
Inspiration to take a leap of faith.
When Vincent first began his career as a coach/consultant, he approached his clients and inquired about the results they had had from his professional coaching services. Apart from their financial results, the majority of them stated that they now have a greater sense of direction, not just in business but also in life, which has given them a new feeling of optimism and meaning in their work and lives. "This fueled my passion to help more small-medium business owners and entrepreneurs to transform their businesses and lives," he says.
He strongly believes that success is about having absolute, sustainable clarity & purpose and being happy in our journey in life. This has become his life's mission and purpose. Being successful as a person is challenging enough; leading and supporting a group of people to be successful is even more challenging. "But that's what makes building a company exciting," states Vincent. He also believes that a company/business is made up of people, and in order to build a great company, we must first build great people. The 5Ps – Purpose, Passion, Potential, Profits, and Progression – were established as the foundation of Game Definer.
Challenges make you stronger.
There is a saying "If you stop learning, you start dying". As a lifelong learner, Vincent learns a new lesson every day. "But I can't always notice my own flaws and weaknesses though. I need someone to lead me in the right direction and challenge me so that I can increase my self-awareness and keep improving. So, definitely, challenges strengthen me," he exclaims. He is always open to being challenged by others.
Throughout his journey in business, there have been three major incidents that have helped to shape him into a stronger leader and a better person. The first sparked his interest in the business. A friend pushed Vincent to develop his first business plan for him to obtain a sole distributorship for a building material product from Germany. Vincent learned a great deal about business plan writing and planning and he eventually specialized in strategic business planning.
The second incident was a case of betrayal. In his career transition to a coach, he met a "business partner" whom he supported to build his business with a promised fee. Not only did he not fulfill this promise, but Vincent also discovered he cheated a childhood friend of a sum of money. With this experience, some people will be hesitant to have a business partner. On the other hand, he continues to believe that combining abilities with the right people can help us expand more quickly. "This experience has taught me how to better identify, qualify, and select a business partner," he states.
The third incident involved deception. An employee defrauded the company of money. Vincent normally trusts his people before passing judgment on them, this employee took advantage of this. Although it was quite an expensive lesson, he says that he appreciated this experience because it has made him even tougher and more objective as a leader, enhanced his management skills, especially in the function of controlling, and enhanced his people profiling abilities. Since then, he has also created a management system called Duality Management System.
The contribution of GAME DEFINER in redefining the consulting space
Before launching Game Definer, Vincent founded Eduvo in 2012 as a training, coaching, and consulting firm for businesses of all sizes along with his business partner Keith. In 2014, they added a Technical and Vocational Education & Training (TVET) division, where students aged 16 and up can earn Professional Diplomas and Degrees. In 2018, when they decided to focus on business and digital transformation, they decided to split their businesses into independent entities. Eduvo only focuses on education as an IT and Business TVET academy, while Game Definer and SP Digital Plus are focused on business transformation and digital marketing coaching and consulting services for SMBs.
Game Definer then grew to be a business transformation coaching brand in their defined market. Game Definer is unique in that it can look at business transformation as well as life transformation. They profile both the business and the people that operate it, allowing them to tailor more direct, relevant, and effective transformation plans based on their strengths. "As we recognize that SMBs require a lot more support to scale and sustain their businesses, I envision building an accelerator-like platform. This will enable us to provide faster and greater transformation to our clients," explains Vincent.
The best recognition received as a leader.
Vincent started as an employee then moved to become self-employed and thereafter grew as a business owner. "Although I gained a great deal of knowledge and experience during my employment years, I believe I advanced the most when I began my professional coaching career. It had been ten years. And another steep advancement was when I expanded my team and became a business owner," he says.
Vincent claims that he is constantly learning and improving. He feels fortunate to have several people who have supported him on his quest to improve himself. Two mentor-like figures have given him similar advice: it's not about the certification or branding that makes you a professional coach/consultant and leader; it's about the lives you've touched, helped transform, and the recognition you've received from them that qualifies you as a worthy coach/consultant and leader. In saying that, they acknowledged his expertise and gave him that recognition. "I was overjoyed!" he exclaims. The next was his teammates. They told him that one of the key reasons they stay at the company is because they value the culture they've created and how they're continually challenged to improve – not only their skills but also their character and lives. "I was touched! This has motivated me to continue creating a better workplace and protecting what we have accomplished," Vincent states.
Last but not least, his clients. When he coached them on how to develop their leadership skills, some of them adopted his leadership approach because the method he demonstrated for leading others seemed to work better than their previous attempts. Vincent says that he was honored. This has also inspired him to keep learning, growing, and inventing innovative ways to help business owners become better leaders while improving themselves at the same time.
Responsibilities as CEO at GAME DEFINER
Vincent, who defines himself as a 'Purposeful' person says that his key responsibilities at Game Definer and Eduvo are:
to provide direction – both on a company level for company growth and an individual level for the growth of his team.
to ensure the company culture is intact.
to coach his team to maximize their potential & performance.
"There is much more work to be done. Regardless, I'm enjoying what I do now. And I'm happy with my relationships. Nonetheless, I need to strengthen my relationship with myself, particularly in terms of my health," he says.
Before Game Definer, Vincent was a salesperson in the steel/construction industry, a sales manager in the aluminum recycling industry, a freelance business plan writing consultant, a coach cum marketing personnel in a real estate agency, a trainer, and a professional coach and consultant.
Work-life balance
Vincent believes that we have different priorities at different phases of life. And getting the priorities right at those stages is what balance is all about. One of the keys to achieving balance is maintaining healthy relationships. These relationships begin with self, then move on to family, work, and friends. Healthy relationships require honesty, open communication, and a lot of patience. So, rather than separating his personal and professional lives, he allocates time to his priorities and, more importantly, communicates his priorities to those around him. "When I'm not with my thinking cap, I like to just spend some "me-time" watching movies, or reading as well as spending quality time with my family," he says.
Every day, he wakes up with a mission in mind/heart: to make a positive impact on the lives of individuals he comes into contact with. This might be his teammates, clients, or any other acquittances. That is what keeps him motivated. As for his teammates, he believes that internally driven motivation, rather than external influences, is required to sustain long-term motivation. So, he usually strives to create meaning in their work and align it with their life goals.
His top 3 goals for Game Definer over the next 3 years:
He is guiding his team to enhance their coaching, business, and leadership competencies so that they can take the lead in growing the company.
He'd like to share his knowledge, abilities, and experiences to train/develop more professional business transformation coaches.
He'd like to create an accelerator-like platform to provide more holistic support to SMBs.
Vincent's message to all aspiring leaders is to understand your and your company's Purpose. Stay Focused and Objective. Know your Priorities. Keep Building. And Enjoy the Game of Business & Life.