Mannamu Sreeman: Empowering Millions of Individuals through Innovative Learning and Skills Development Programs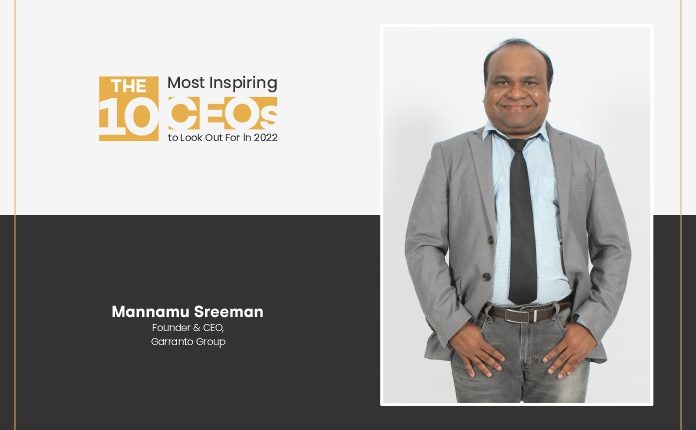 Technology is the unstoppable force of change. Technology has advanced significantly over time, and we can now proudly claim to be part of the digitalization era. EduTech is a too-good-to-be-true combination of education and technology. Education has been infused with technology in order to improve the quality and efficacy of instruction.
Learning activities are carried out using a variety of modern technologies such as artificial intelligence, virtual reality, and machine learning. Although human intervention has not fully ceased, it has decreased in favour of increased use of technology, which has been shown to be advantageous.
An entrepreneur at heart committed to building businesses in information technology, executive search, and EduTech, Mannamu Sreeman is a serial entrepreneur and the Founder & CEO of Garranto Group. He has won numerous international awards, including the Business Excellence Award winner from the USA, the Indian Achievers' Award for HR Excellence in 2020, and the Business Achievement Award from Malaysia in 2019.
Garranto Group
Education is the most powerful weapon which you can use to change the world. – Nelson Mandela
Garranto Academy is a trusted training partner that will inspire, challenge, and empower you on your lifelong learning path. Our courses and training give a comprehensive learning experience with world-class subject matter experts, allowing students to gain new skills, immerse in new experiences, and improve critical thinking. Garranto Academy is committed to developing, coaching, and growing talents in order to assist individuals in achieving their objectives.
Garranto EdTech provides education professionals with high-quality, evidence-based professional development. Garranto EdTech develops technology that allows for remote learning, better communication, and faster learning.
Garranto Resourcing is a FinTech company established in Singapore that offers recruiting and human resource services throughout Asia. It began operations in Singapore in 2008 and has since extended to include the Philippines, Indonesia, India, Ireland, Cambodia, Vietnam, Laos, Thailand, Malaysia, and Myanmar.
Garranto Technologies specialises in IT services such as digital technology, digital transformation, digital banking, offshore development, and operations.
Drive forward in achieving personal and professional goals with Garranto HR Tech.
The team will help you get noticed by companies and hiring managers as one of their top-calibered employees. You can easily create a resume that can turn your dream job into a reality.
Transform your technical abilities by using Garranto FinTech to provide superior financial services and judgments. Keep up with the latest technical advancements in the financial sector, as well as the complexity of blockchain, in line with international compliance.
Business strategy, IT transformation, change management, and business analytics were all areas of concentration for Garranto Consulting.
Success that Encompasses Lifelong Learning
Success for Mannamu is not just about the goal. He feels success is not just aiming to reach the top, it is the journey. He says, "The journey that taught me so much made me who I am today." He shares that when he looks back on the past years of his life and even today, he still faces challenges which he believes are his greatest achievement and his greatest success. He mentions, "Without my previous challenges, I would not be who I am today and Garranto Academy might not exist if I'm too obsessed with just reaching the top and not learning and enjoying the journey of my success." Mannamu asserts, "Your journey allows you to face reality." You stumble, and you learn how to get back up again. That's the real dream, that's the real determination. "
Personalizing Work and Personal Calendar
Mannamu makes it a point to keep a clear separation between his professional and personal lives. He recognizes that he is not a perfect guy, which is why he makes an effort to spend time with his family, which allows him to recover after a hard day at work and allows him to be more effective while working at his company with his co-workers. He shares, "What I always do to stay motivated and consistent with my work, especially as a CEO, is to also have time to read books every day and watch videos that encourage me to keep on." When it comes to his employees, Mannamu makes time each day to interact with them. He means it when he says he always makes time for people to discuss and share their views. "In this way, my employees feel that they have a voice and their ideas matter," says Mannamu. He appreciates how his co-workers share and support him when he achieves an achievement. This method, he believes, not only pushes them to complete the task but also encourages them to grow and create.
Insights on Leadership
To continue to reach the attainable, good leadership must be able to adapt and alter strategy. Setting unreasonable expectations for yourself, your team, and the company as a whole is a recipe for disaster. A successful leader knows his or her important team's abilities and traits and ensuring that the right people are put in the correct roles is a critical element of success. Mannamu's mission is to assist more people in unlocking their abilities and finding the proper occupations for them, as well as to inspire them to continue and stay on track to success. His advice to aspiring entrepreneurs is to "never give up." He further mentions, "Ask yourself why and keep asking yourself questions." You'll be able to figure out what's holding you back in this manner. Always remember that you are your own limit, and no one but you can stop you. If you want others to believe in you, you must first believe in yourself. "
Mannamu thinks that in business, you must take risks and that you should never be afraid to take risks; rather, be terrified not to.
Future Aspirations
Mannamu's long-term goals for Garranto include increasing worker employment and productivity. Individuals will establish a competitive learning environment for people all around the world, resulting in equal employment and opportunities. He says, "We are not only focusing on one country." "In fact, we are processing so that we can widen our reach and continue to help individuals and organizations with upskilling and reskilling."
Garranto's mission is to close the knowledge and skills gap in order to help countries prosper in the global market. Its 2030 Mission is to upskill 100 million people worldwide in order to promote sustainable human development and women's empowerment.
Client's View
Mr. Mannamu has great experience in his professional firm and also supported his clients and candidates with his best contribution to grow the direction of his purpose. I do really recommend him and I believe you won't regret working with him for certain. –Tin Zar Win
Operations Manager, Harley-Davidson, Myanmar
The Garranto Employment Agency has been really helpful for me in finding a suitable career opportunity. The team took the extra mile to reach out to me and keep me informed. I would like to recommend anyone looking for further employment opportunities in the future to reach out to them. My best wishes to the team. – Suni.B, Global Youth Leadership 2019 & ASEAN Youth Leadership Awards Winner, Myanmar