Keith E. Gregg: Leveraging state-of-the-art technology platform to help small-scale businesses thrive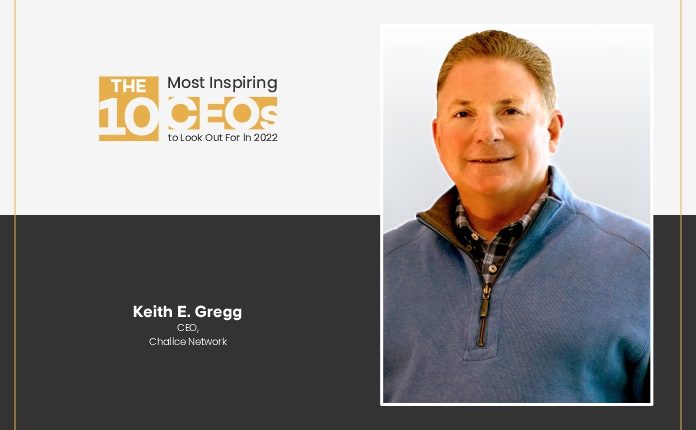 Not all business leaders strive for only financial success; many works towards building exceptional solutions that transform people's lives. One such leader, Keith E. Gregg, Founder and CEO of Chalice Network, assists small business owners in capturing their economies of scale, proffer operational efficiency, and elevate their enterprise value via Chalice. With the help of an extensive network of 60,000+ members, the company provides maximum clout and buying power while the negotiations about the needs happen between vendors and small business owner members in exchange for meaningful savings to them.
All this is managed using the SSO digital marketplace and e-commerce platform. This platform has everything under one roof so that the members can get their hands on the business solutions required to run their business, saving them both time and money to open 5-6 separate websites.
The Significance of Chalice Network
Keith addresses the woes of small-scale businesses that don't have access to intelligent technology and thus, can't perform operations efficiently and, in turn, result in scaling at a slow pace.
He shares, "Every small business feels like David versus Goliath – so we set out to assemble a group of like-minded entrepreneurial folks to build strength in numbers and enable our members to compete with the larger companies by giving them access to big company benefits and savings."
As a San Diego-based FinTech Company, Chalice Network integrates all the functionalities encompassing the entire life cycle of their business – Start, grow, run, protect, and monetize and caters to everything a small business owner needs vis the SSO digital marketplace. The best part is that entrepreneurs can save up to 25-30% on average using this marvelous product.
He adds, "At Chalice, we believe the Strength of we empower a network of me." Over time, they have been called Costco or even Amazon Prime for small business owners. Thus, they are proud of achieving this feat as the company is able to provide access to an outstanding technology platform that acts as a digital marketplace and e-commerce platform to boost their operational efficiency as well as offer real tangible savings.
Keith's Life before and After CEO
Being a Serial Entrepreneur, Keith formerly held several coveted positions as the founder & CEO of Innovation Equity Partners, CEO of Capital Guardian Securities and First Allied Securities, founder, and Chairman of the Wealth Advisor Institute, past President of the Institute of Investment Management Consultants Association Chapters, Chairman of the Membership Committee for the Investment Management Consulting Association and Senior Executive for Wachovia Securities, GE Capital, and Prudential Investments. He is also an author of 'Do Well by Doing Good: The Complete Guide to Charitable Remainder Trusts' and a renowned self-made Business Acceleration Executive.
Having a profound experience of three decades in executive leadership and financial services, Keith developed Chalice Network as a members-oriented organization for independent wealth advisors that renders a fully integrated suite of unique technology tools, products, and services via a single sign-on shared services technology platform – Chalice Advisor Exchange™.
As the CEO, Keith has the main responsibility to create and foster a culture of camaraderie and collaboration. Now that his teams are working remotely, he regularly communicates via Slack and Teams and even conducts zoom meetings frequently to make them feel highly motivated and connected. He says, "I will say we have tried to make light of these stressful times with virtual happy hours and allowed extended members of the families to join in the zoom meetings – even when unexpected (whether it be dogs or children). We remain optimistic and anxiously await the reunion of the Chalice Family."
Currently, he lives in San Diego, CA, with his family comprising of his wife and two sons.
Attaining the Zenith of Success Under Keith's Leadership
Keith shares that the main feature that keeps them stand apart from the rest is by understanding the market and adding a dash of innovation. He emphasizes imparting excellent business solutions instead of just selling a product. He shares, "With almost 30 million small businesses in the US and over 200,000 businesses serving them – there is plenty of room for all of us. We take pride in calling our folks members and building a culture and ethos of inclusion."
He is happy about being open-minded and adopting agile methodology to adapt to the audience's needs and environment. Starting out as a member benefit organization to deliver solutions as a PaaS and emerging as a SaaS company today is the outcome of understanding the needs and ameliorating every day to provide remarkable solutions as a strong company.
Explaining it with an illustration, he explains, "Most small business owners don't provide health insurance for their employees because it is quite expensive and it's hard enough to insure themselves and their families. As per estimates, even though the Affordable Care Act gave access to guaranteed Health Insurance, between 60-70% of all small business owners go without insurance and are getting it from a spouse that has it through their employer." Thus, Chalice came forth with a Chalice PEO and provided insurance at the group level. With this, the company supported all its members with Fortune 500 benefits and affordable insurance coverage with savings of as much as 35%.
Not just this, when they acknowledged that most of their members were baby boomers, they designed a discount prescription drug program popularly known as Chalice CaresRx that helps all the members to save about 80% on their prescriptions.
Future Roadmap of Chalice Network
Keith shares, "We are big advocates of eating our own cooking. What we do for us – we want to do for others. Our members are small business owners and have clients that have the same needs as they do – access to affordable health insurance, discounts on products and services, and the need to be part of something."
For 2021, he plans to channelize the company's strategies to grow the users of their platform and marketplace by making it available to the clients/customers of the existing members. They always aim to keep this B2B2C model as their ultimate milestone to scale the business.