José R. Sánchez: Improving the Health Status of the Poorest and Most Disadvantaged Populations from New York City to Chicago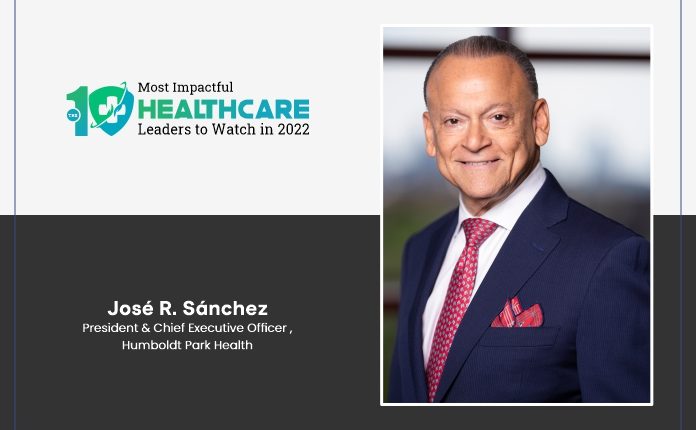 Healthcare is a dynamic and ever-changing profession. Medical experts' approaches to and treatments for illnesses are developing at a breakneck pace, thanks to developments in biomedical technology. But it's not only technological innovation that's transforming medicine; it's the concepts that give birth to these advances. Men and women who dared to think beyond the box have shaped the future of medicine.
With a 30-plus-year career as a Healthcare Executive and possessing a wealth of knowledge about the healthcare industry, José R. Sánchez, President and Chief Executive Officer of Humboldt Park Health, is dedicated to enhancing the quality of services provided to more than 112,000 patients annually. One of his first tasks was to lead the management executive team in evaluating and improving the quality of all present systems, structures, and services. José is dedicated to finding collaborative and innovative solutions for the hospital and community's healthcare concerns in the Humboldt Park, West Town, Wicker Park, Logan Square, and Austin areas.
Since 1979, Sánchez has worked as a professional social worker. He graduated from the City College of New York with a Bachelor of Arts in Psychology and from Adelphi University with a Master of Social Work. The New York College of Podiatric Medicine awarded him an honorary doctorate in 2002, and he received a second honorary doctorate in 2019 from St. George's University School of Medicine for his immeasurable accomplishments and steadfast commitment to improving the health care outcomes for some of the poorest and most disadvantaged populations in New York City and Chicago.
Beginning of HPH Journey
When José started at HPH, the hospital's situation was critical. It was a hospital that was on life support. The quality was at an absolute minimum; it lost money every year and was under CMS (Centers for Medicare & Medicaid Services) supervision for life safety risks. He quickly realized that Humboldt Park Health had an aging infrastructure, a difficult time attracting talent, and a poor reputation in the community.
After evaluating the hospital's condition, José identified specific areas in which he needed to concentrate, and he formulated a winning strategy that was centered on five areas: 
Addressing quality issues and ensuring the hospital could meet all the regulatory agency requirements.
Balancing and growing the business.
Connecting with the community—being a community hospital, I felt the responsibility to urgently create a level of visibility to rebuild the hospital's reputation and lead in advocacy efforts to address the overwhelming challenges and needs being experienced by our community members.
Advancing technology to build efficiency and improve our services' quality.
Lastly, physician engagement; we needed to recruit more physicians and create a succession plan for attracting and onboarding vibrant doctors to be part of our physician's network and community.
Once the infrastructure for these five pillars was cemented, José focused on tackling patient satisfaction.  José feels that to be a great CEO, you must understand how politics and healthcare are intertwined and how to manage government policies. He recalls that with $3.5 billion in anticipated Medicaid cuts during the Quinn administration, he and his staff faced one of the most critical challenges of his career at Humboldt Park Health. "I had to switch gears from CEO to community organizer." We brought people together, we filled buses, and everyone joined us down in Springfield, and together we ensured these cuts were reversed that year." He recognizes that it was a collective effort and took quick adaptation, but "I counted on my whole team, and together we made it happen." 
Great things in business are never done by one person. They are done by a team of people.
Humboldt Park Health
Humboldt Park Health is a healthcare organization that, despite many challenges, has thrived for many years. It has carved out a significant role in the Humboldt Park community as an institution that offers value to the community.  As the Chairman of the Board of the West Side Health Equity Collaborative (WSHEC), Mr. Sanchez and HPH are an integral part of five hospitals and four community-based groups committed to pioneering change in an ever-evolving health care landscape.
In January 2021, the hospital completed a major re-branding initiative, renaming itself HUMBOLDT PARK HEALTH (fka Norwegian American Hospital) to reflect the diverse and inclusive community it serves, adapting a new tagline "Advancing Health Equity" to emphasize the hospital's renewed commitment to ensuring that all members of the community have fair and just opportunities to be as healthy as possible, regardless of race, ethnicity, identity, or socioeconomic status. The tagline anchors HPH's mission to eliminate barriers to health and healthcare by addressing the social determinants of health from a holistic perspective. Embarking on a long-term Wellness District initiative, HPH's ground-breaking last month on a new $25 million, state-of-the-art Wellness Center, the first of its kind for the Humboldt Park Community, is well underway.  With significant state-wide and local support, the Wellness Center will promote healthy lifestyles, sports medicine, rehabilitation services, preventive care, and more. Additionally, to solve housing in a community displaced by gentrification, HPH created 47 housing units for homeless veterans and will continue to address housing inequity with its first phase of 100 affordable housing units integrated with the City of Chicago's INVEST South West initiative.
An Innovative Outlook for Success
"The only way to improve quality is in a free market of competition," says José. When seen through the lens of consumerism, he feels that competition leads us to become a far better organization. Competition excites him because it brings out the best in him. José tries to be the best in whatever he does, so anything less than first is unacceptable. José says, "I am always looking for innovative ideas to stay on top of the game."
He is a strong believer in self-evaluation. He never feels like he has achieved all of the goals he has set for himself. He sees success as a journey, not a destination – therefore, "I achieve some goals and then create new ones," he says – "With this type of job, you make progress, not completion." According to José, "If you pause for too long, you risk losing important gains." And as we face the inherent injustices and institutional racism impacting diverse groups, healthcare is at a pinnacle challenge for us today." He never stops because he believes the mounting difficulties for safety net hospitals are so dire that there is no time for rest.
Inspiration to Create the Best Healthcare
This outlook inspires José's fundamental belief that there should never be any compromise on delivering the best care to people.  Putting patients at the center is essential to producing the best outcome. He says, "If you personalize it, we want the best care for ourselves, our significant others, our children, and our family—conceptualizing and personalizing this reinforces your commitment to delivering the best care." He further adds that we must always ask, "What kind of care do I want for myself?" Decisions are then made from a position of what is best, not just what is affordable. He adds that if HPH delivers the best quality of patient care, repetitive ER visits and returns to the ORs for the same conditions decrease.  This is an effective business model because reducing overall costs defrays all its implications and creates long-term sustainability.
Advancing with Innovation and Building a Broader Community Network
Regardless of the wins, accomplishments, and local and national recognition for its achievements in turning around this safety net hospital, José believes that HPH is still in the early phases of becoming a great organization. When José looks back at all the challenges HPH has faced, he admits that healthcare battles have always been a heavy lift for safety net hospitals, including meeting basic healthcare standards, so he finds HPH's growth throughout the years to be formidable. He states, "We have stabilized our finances, improved our quality, created new programs, solidified our engagement with the community as a viable healthcare provider, and created a training program to develop a new generation of physicians within our community." He further adds, "Our participation in the fabric of Humboldt Park as a community ally, and to see the growth in the community's trust and confidence, as well as the national recognition, I feel we have done remarkably well under very adverse circumstances, yet there's more to do in leading the next chapter in the evolution of Humboldt Park Health."
Humboldt Park Health provides more than just healthcare.  It serves as a voice for the voiceless and the needs of those most vulnerable while steadily exposing barriers to health and creating resolutions for wellness beyond the hospital's walls.  HPH is an economic engine and a teaching center for young physicians who train and live within the community they serve throughout their Family Medicine Residency.  José says, "As we continue forward, we are focusing on the completion of the Wellness Center, affordable housing in the community, being vigilant about new medical techniques and medications, ensuring that our patients benefit from equitable and qualitative care at every juncture, and embracing technologies as a tool to connect with patients in real-time for efficiency and quality improvements."